Govt. of West Bengal Order dated 15 April 2004
Govt. of West Bengal Order dated 15 April 2004
GOVERNMENT OF WEST BENGAL
TRANSPORT DEPARTMENT
WRITERS' BUILDINGS
KOLKATA-700 001
| | |
| --- | --- |
| No. 1576-WT/8S-78/2000 | April 5, 2004 |
D I R E C T I O N
In view of the orders issued earlier, in the matter of compliance of BS II standard of emission norms within Kolkata Metropolitan Area by all types of vehicles, as passed by the Hon'ble High Court, Calcutta on 03.04.2003 in WP 2062 of 1999, this department issued directions to all concerned for compliance thereof with effect from 02.04.2004. Now that the said order has been modified by another order dated 30.03.2004 of the Hon'ble Division Bench of the Hon'ble High Court, Calcutta, certified copy of which has not yet been obtained, it is felt necessary that fresh directions be issued in compliance with the latest order of the Hon'ble Court so as not to allow any hindrance to smooth vehicular movement within Kolkata Metropolitan Area and the issue of permits to transport vehicles in the public interest.
Now, therefore, it is hereby directed that the deadline of 02.04.2004 indicated in the various orders issued in this matter by this department viz. No. 3882-WT/8S-78/2000 dated 02.09.2003 and other directions issued in connection therewith, in the matter of operation of BS II vehicles within Kolkata Metropolitan Area, is deferred till 31.05.2004. The entire matter will be reviewed to frame a comprehensive policy, once the certified copy of the aforesaid order of the Hon'ble Court is received.
All concerned are directed to act accordingly.
By order of the Governor
Sd/-
Joint Secretary to the Govt. of West Bengal
Events
There are currently no events
Photo Gallery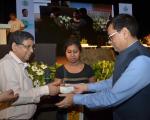 World Enviorment Day