Govt. of West Bengal order dated 17.02.2004
Govt. of West Bengal order dated 17.02.2004
N O T I F I C A T I O N
The Management Committee for the East Kolkata Wetlands at its 2nd meeting held on 6th January, 2004 decided to constitute a committee for formulating the guidelines for preparation of a management plan for the East Kolkata Wetland area, comprising the following officers:-
Chief Executive Officer, Kolkata Metropolitan Development Authority

A representative of the Commerce and Industries Department

District Magistrate, 24 Parganas(North)

District Magistrate, 24 Parganas(South)

Director, Land Records and Surveys

Dr. Netai Kundu, Institute of Wetland Management and Ecological Design

Chief Environment Officer-Convenor
The Committee also decided that a survey should be made jointly by the DLRS and the IWMED to determine the actual land use of the cadastral survey plots comprising the above wetland area.
2. It is accordingly ordered that a Committee be constituted composed of the above mentioned officers to formulate the guidelines for the preparation of a management plan for the area. The Committee shall keep in view the stipulations of the Ramsar Convention in preparing the guidelines.
3. The Committee shall submit its report to the Management Committee within 45 days from the date of this notification.
Sd/-
Principal Secretary to the Government of West Bengal
Events
There are currently no events
Photo Gallery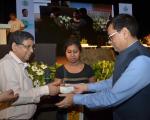 World Enviorment Day