Rabindra Sarobar Expert Committee
Rabindra Sarobar Expert Committee
Govt. of West Bengal Order on formation of Expert Committee on restoration and improvement of the Environmental conditions of Rabindra Sarobar
N O T I F I C A T I O N
The Monitoring Committee for restoration and improvement of the environmental conditions of Rabindra Sarobar, Kolkata has decided to constitute a committee of experts, which would examine the conditions of the lakes and their environment and in particular, the quality of water in the lakes, the bio-diversity in the area and the present use of the resources and recommend measures for the improvement of the environment.
2. The Committee will consist of the following:-
(i) Dr. Girija Sankar Giri, Joint Director, Botanical Survey of India.
(ii) Shri R.A. Khan, Joint Director, Zoological Survey of India
(iii) Shri S. Barari, Chief Environment Officer, Department of Environment, Government of West Bengal
(iv) Shri Tapan Saha, Institute of Wetland Management and Ecological Design
(v) Shri Chunar De, Superintending Engineer, KMDA
(vi) Dr. D. Chakraborty, Scientist, West Bengal Pollution Control Board
(vii) Shri P.K. De, Chief Engineer, Kolkata Improvement Trust, Member-Convenor

3. The terms of reference of the Committee will be as follows:
1) to recommend remedial measures for improvement of quality of the water in the lakes;
2) to recommend the outlines of a plan for the landscaping of the area adjoining the lakes;
3) to recommend measures for overall improvement of the environment and the ecosystem in the area.
The Committee shall submit its report to the Monitoring Committee within one month.
Sd/-
Principal Secretary to the Government of West Bengal
Events
There are currently no events
Photo Gallery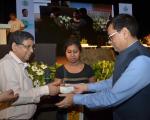 World Enviorment Day