Particulars of facilities available to citizens for obtaining information, including the working hours of a library or reading room, if maintained for public use
The particulars of facilities available to citizens for obtaining information, including the working hours of a library or reading room, if maintained for public use
The WBPCB Library is well equipped with resources in the forms of books, reports, theses, journals, standards, newsletters, newspapers and magazines, CDs, DVDs, video cassettes etc. related to environment. The Library uses KOHA - an Integrated Library Management System for maintaining records of the internal users borrowing any document, using the library facilities and also for maintaining a regular account of updation of the availability status of documents in the library. The external users like students, research scholars etc. must seek a prior permission from the Member Secretary, WBPCB to avail the library facility absolutely free of cost by studying only and may collect required information/data by photocopying the same from the library itself. They are not allowed to either borrow or carry any documents outside the library. The Library is functional from 11:00 a.m. to 5:00 p.m. on all working days (Monday to Friday) except holydays.
Publications: In view of disseminating information to all, the Board comes up with its regular set of publications like the half yearly Newsletter (in both English and Bengali) and Annual Report to present its activities from time to time.
Website: On-line access to the activities, happenings and regulatory mechanisms of the Board are available at the Board's website (www.wbpcb.gov.in).
E-mail/Toll free number: Any query related to the activities of the Board or inquiry about any issue related to environment can be informed by mailing at wbpcbnet@wbpcb.gov.in or by dialling 1-800-345-3390 (toll free).
Events
There are currently no events
Photo Gallery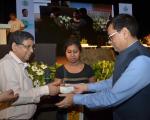 World Enviorment Day