Procedure followed in the decision making process, including channels of supervision and accountability

(Administration has been requested to provide relevant/current/modified information to incorporate the same on 29.10.2014 and on 04.05.2015)
ORGANISATIONAL CHART:
The West Bengal Pollution Control Board being the chief regulator for implementation of environmental protection and pollution control in the state plays an important role in enforcing various laws, rules, regulations notifications etc. pertaining to prevention and control of pollution. It is also responsible for monitoring of pollution and for preventive and curative action. (mitigatory measures).
The important enforcement powers vesting with the WBPCB are laying down standards and securing their compliance, inspection and monitoring of all sources of pollution, issuance of notices with time limit to comply with the legal requirements, closure of the defaulter unit in grave cases and prosecution in cases of serious violation. The prime decisions of the Board may be categorised as follows:
Administrative / Financial decisions: Administrative decisions dealing with the employees of the Board (such as recruitment, promotion, transfer, all kinds of leaves, annual increment and training matters), as well as custodian and other matters related to the declaration of assets, issue of work orders related to operation & maintenance and also matters related to personnel and office management. Financial matters include the entire audit, financial and accounting matters of the Board.
Technical decisions: The decisions related to consent and cess administration, environmental monitoring, collection and analysis of pollution related data and introduction of economic instruments for abatement of industrial pollution.
Legal decisions: All decisions related to legal matters and public grievance.
Notes related to any of the above-mentioned matters are initiated at the lower levels of the hierarchy and moves up. The Member Secretary and Chairman of the Board take the decisions dealing with these matters. The Member Secretary takes all financial, administrative and technical decisions, and the decisions dealing with the legal matters are taken both by the Member Secretary and Chairman of the Board. The final decisions related to these matters, and all other policy decisions are taken by the executive members of the Board. Thereafter, the necessary actions related to the decisions are taken.
Consent Committees: These Committees (effective from September 1, 2005) have been constituted to provide valuable external technical inputs and involve stakeholder participation in the process of consent administration. These Committees involve stakeholder participation including views from industries, non-governmental organisations, etc for taking recommendatory decisions only. The power of taking final decisions on the recommendations of these committees, solely lies with the WBPCB.
Technical Committee at head office
CFE (Consent For Establishment) Committee at head office
CFO (Consent For Operation) Committee at headoffice: To examine CFO applications and take decisions
Task Force Committee at headoffice
Consent (CFE/CFO) Committee at circle office
Consent (CFE/CFO) Committee at regional offices
Events
There are currently no events
Photo Gallery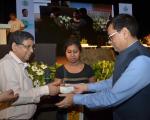 World Enviorment Day